If you are looking to make your event stand out, look no further than a Cupa Cabana custom coffee bar. Cupa Cabana's custom bars will help take your event experience to the next level. For a better view of our bars, please click on the thumbnail images.
Lucite Designer Bar
Our trendy tall lucite bar is an exceptional addition to our tabletop presentation. This LED backlit coffee bar makes a bold statement when combined with custom branding. Add our bistro tables and chairs or couches to create a lounge experience with ambiance.The High Top Coffee Bar set the stage for an event experience to be remembered.Dimensions: 8'long, 3.5'tall and 2'deep
---
Designer Lucite Buffet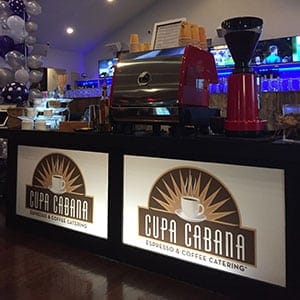 Our standard lucite bar has the same features and provides the same benefits as its taller counterpart, with customizable colored back lighting.This custom coffee bar is a great way to provide a branded experience and create unique event ambiance for your guests.Dimensions: 8' long, 30″ tall and 2′ deep
---
One of more popular bar options the Cupa Cabana Barnwood Coffee Bar is rich, deep color, this bar can be used with or without "Espresso Bar" header.It has a stately corporate look or fun social appeal. Bistro tables and couches make a perfect meeting place.Dimensions: 60″ L x 36″ H x 24″ D
---
Our whitewashed Hamptons Espresso Bar is a must have for any summer soiree. This custom espresso bar is a perfect fit for any event and looks great poolside and even on the beach.
Dimensions: 6' long, 36″ tall and 2′ deep
---
Cupa Cabana's custom bars bring out the fun at every event and can go from corporate events to trade shows to social events easily. Our lucite bars versatile back lighting can reflect a brand's colors with branding opportunities for the front panels, while the Barnwood bars have a rustic and clean look for private and corporate events.