Brrrrr! We hope everyone is staying safe and warm during the first Blizzard of 2016 for us in the Northeast. The cold weather has finally arrived.
With lots of snow bearing down on us, most supermarkets and stores have been ransacked – bread, milk, water, all sold out. While people are out putting gas in snowblowers, generators and other machinery, it is also time to consider keeping young ones entertained until the blizzard winds die down, and going outside to play in the snow is an option. There are a few things that you can utilize around the house to keep children happy and entertained until it is time to lace up the snow boots and prepare for the first big snowball fight of the season.
Cold Weather Coffee Art
Photo Credit: Irina Nikitina
We saw this cute project idea and had to share – if you have a few handfuls of coffee beans available, why not encourage the kids to create some snow day art? Mix it up with different paints, glitters, or even get creative and bring in some evergreen branches or outdoor twigs to get even more wintery with the artwork.
---
A Flurry of Filters
Create an indoor blizzard for the children (who are age appropriate to wield scissors) to go head to head with Mother Nature's creation outdoors by using coffee filters! Some quick and easy tutorials on how to design coffee filter snowflakes that can be placed on the windows, doors, or posterboard can be found on YouTube. Here's a great example.
---
A Mobile Blizzard
Merge art and those coffee filter cut-out snowflakes into a fun mobile work of art, complete with hanging clouds, snowflakes and other fun, wintery-themed items (such as the adorable mittens you see in the below example.) Again – don't be shy to incorporate other craft ideas into this craft. What about cotton balls to glue to the clouds to make them more fluffy and dimensional? Coffee bean smiled snowmen? The sky is the limit!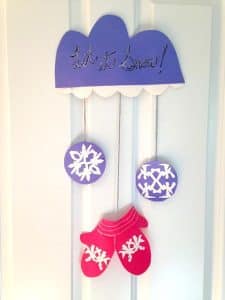 Photo Credit: Celebrations.com
Hopefully by the time these crafts are done, it will be time to go outside and frolic in the snow. Stay safe, stay warm, and don't forget the cocoa!