The Caribbean is known for its crystalline blue water, white sand beaches, and cultural dishes. Did you know, however, there are some hidden gems to obtain a fantastic coffee? In a recent visit to the Turks and Caicos Islands (British West Indies) which dances at the right-hand outer edge of the Caribbean island family – we discovered some amazing little spots around Providenciales (also known as Provo – the main island) to sip on a delicious (iced) cup of coffee. We wanted to share with our readers in the case they can let us know if they too have had the pleasure of trying them out. If not, consider it a great guide on where to go for a caffeinated treat. Caribbean coffee, here we come!
Shay Cafe and Lounge
Shay Cafe and Lounge boasted a cute, beachy interior and outdoor seating that was under shade (which was much appreciated in the hot, early Turk morning sun). The coffee here is delicious (Cold Pressed Coconut Coffee? Yes, please!) and the pressed paninis and wraps were also refreshing. If you're not in the mood for coffee, their Mango-Strawberry smoothie is one of the most refreshing things you can try before taking your towel and umbrella to the beach.
Melt
Say hi to Dee-Dee, who will be one of the servers at this little cafe that offers fresh frozen coffees, alongside refreshing, creamy gelatos and quite possibly one of the better mojitos you can sip on in the area. Nestled in one of the most popular shopping areas of the island, Melt is typically always bustling – but the service is quick (in island standards. Being from the metropolitan area, one must remember to slow down a bit once landing on the island) and friendly.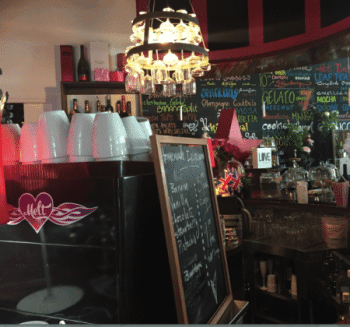 Somewhere Cafe and Lounge
If there is a place to sample coffee while taking in the Caribbean, this place is at the top of the list. Friendly service and a tall, reasonably priced glass filled with fresh tasting iced coffee were delivered to the table as we took in almost every color of blue the island has to offer. Pictures do not do it justice – but let's try.
Aside from boasting great Caribbean coffee, Provo is a great destination for a trip because of the scenery, the water, and the food. Cracked conch, jerk chicken, fresh snapper and delicious grouper are all a part of the island faire. Many of the resorts have restaurants open to the public that are accessible by (sandy) foot – and welcome the chance to serve up delicious meals to new (and many times, returning) guests.