"I'd like my coffee with Pantone, cream and sugar, please."
It is no secret we love coffee. (That's a good thing for you guys). It's also no secret that the majority of the population relies on coffee to get their day going. Mom needs it to commandeer the car full of kids on the way to school. Dad needs it to muster the energy for that outdoor deck project. Teachers, Construction Workers, Lawyers, Artists and Fashion Models all drink it.
Speaking of models, recently it came to our knowledge that the fashion world relies on coffee as well. Not as a drink, but as a muse. According to Sprudge, there are 14 Pantone colors that have coffee or coffee-related names, like "Turkish Coffee", "Mocha Mousse" or "Coffee Liqueúr." These colors have graced the runways, laying the yucky "brown" stigma to rest. Some of these colors match beautifully with other Pantone choices, so we thought we'd feature some looks!
Pantone named Iced Coffee one of the top 10 colors for Spring 2016 – referring to it as a transitional color that is spannable through all seasons. It posesses an earthy quality, soft and subtle.
This color does look earthy and natural! With such a great subtle tone, adding bight pops of color, or darker, sultry hues would pair well, too. Love this look for a wedding color scheme as well, how beautiful does this wedding party look?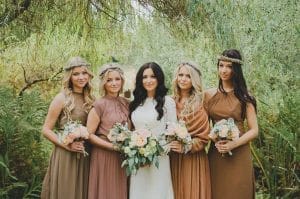 Other Pantone Coffee Hues
We'll let you choose your favorites, but there are some great coffee themed color hues in the Pantone lineup.
From Carafe…
To Coffee Liqueúr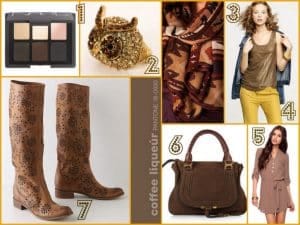 We are enjoying the fashion community taking a cue from their morning routine and adding coffee inspiration to the design board. If there is one thing we want to see, its different blends of coffee colors featured in the world of fashion. Fashion also does not need to pertain to just clothing, bags, or shoes. For example, how wonderfully fashionable (and delicious) does this Pantone inspired cake look?
Mmm. Cake.