From December 6th through December 9th, the newly finished Cupa Cabana Espresso & Coffee Catering Truck was employed by MAS Event & Design to supply thousands of good-hearted New Yorkers with our delicious Hot Chocolate. The Hot Chocolate was handed out to visitors of eBay's New York City Popup store in the Meatpacking District.  eBay featured this Seasons hottest gifts and made it simple and easy for visitors to get their Holiday shopping done and donate to Toys for Tots in one transaction using the new eBay Now App. eBay kindly matched each toy donated.
Below is a link to visit the eBay Give One page which is still accepting donations.
Actress, Jennie Garth, was on hand to open the store. "The eBay Toy Box is a fun, new way shoppers can get the season's hottest toys AND donate to a child in need benefiting Toys for Tots through their mobile phones. I was very excited when eBay and Toys for Tots asked me to be a part of their opening. They are making it so easy for people to give back this holiday season." she told Momtrends. Darren Chris also entertained the crowd with a live performance.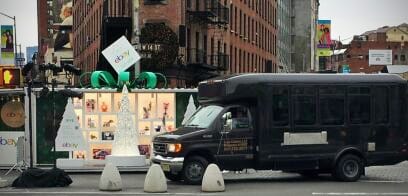 Cupa Cabana's Espresso & Coffee Catering Truck is available for booking all year round. Our Curbside Coffee service is the perfect addition to any event. Our Standard Menu features gourmet favorites prepared by our professional barista staff.