If you ever are invited to attend an Indian Wedding – your views on weddings will forever change. This is a bold statement, but it is backed up by the striking colors and bright customs of Indian culture and matrimony. Forget the white dress and cake – it is time to enter a magical and colorful journey into the world of Indian Weddings and their customs.
A traditional Indian wedding spans over the course of a few days and includes ceremonies with both the bride and groom present, as well as separately – with their respective families. These ceremonies, called "Pujas" (Pooja) are religious rituals of the Hindu culture, and include drums, bells, horns, and chanting.
Henna is an important part of the ceremonies associated with an Indian Marriage. Indian designs (mehndi) are a form of ceremonial art applied to the bride at the Mendhi Ceremony, typically on the eve of the wedding. Tradition states that the bride may not leave the house until the completion of this ceremony with the bride's family. An experienced artist is brought in to apply mehndi to the feet, legs, hands and arms, which can take hours due to the intricate detail and concentration. Mehndi is now a worldwide practice and is found on brides who are not just of Indian descent.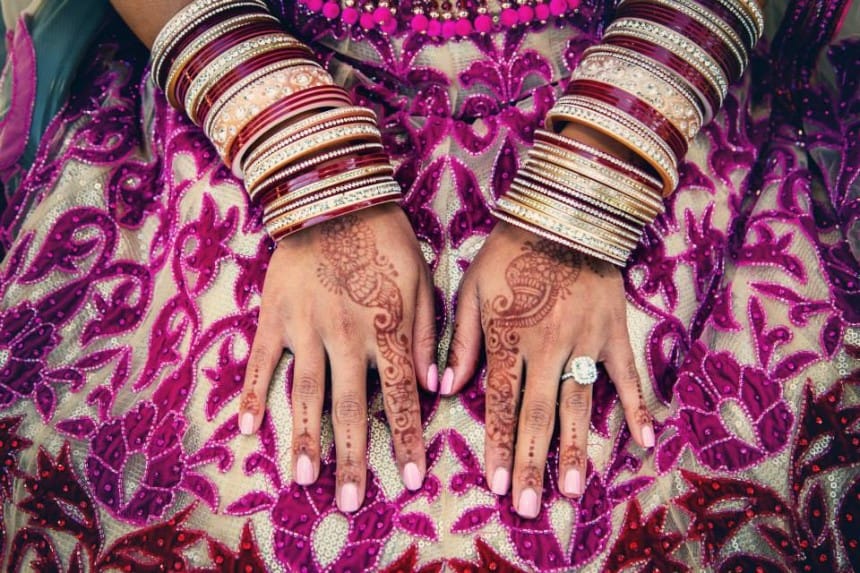 A Kanyadaan ceremony is performed by the father of the bride. It is considered to be the beginning of the giving away of his daughter to the groom. The father leads his daughter to her future husband, then takes her hand and places it into the palm of his.
There are more ceremonies and customs to cover – we'll continue our journey into the world of  Indian Weddings in Part 2, which we'll share tomorrow. There will be more colorful photos and interesting traditions to see so make sure you visit our blog!