Sweet wishes for the 2015 Holidays!
To help you wow your holiday guests this year, we wanted to share some of our favorite recipes and ideas on how to bring the deliciousness of coffee, espresso or tea into your holiday event. (We're thinking outside-of-the-cup on this one). Let's take a look at some of our favorites.
Chai Spiced Chocolate S'mores
There is nothing quite like biting into an S'more that will bring us back to our joyful youth. Reminiscent of campfires, summertime and being around good company – it's no wonder we'd want to highlight this treat as one of the choices for the perfect sweet-toothed finger food. The warm and spicy chai is a great addition to the chocolate and sweet marshmallow, and the flavors team up to make quite a tasty treat. For the full recipe visit here.
Raspberry Earl Gray Cake
At first glance, this cake is almost too pretty to eat. (Almost) It is too bad that the description of the cake will convince nearly anyone not to sit and stare too long. "[This] infused butter cake is paired with a touch of sweet raspberry and vanilla-specked buttercream. Unlike a heavy chocolate dessert or a cake drenched in caramel, the flavors are bold yet still light and delicate." To see the full recipe and also visit a great resource for baking and goodies, click here and visit The Cake Blog.
Espresso Shortbread
Who knew that a 12th-century "biscuit bread" could take a creative spin such as this? Shortbread, whose Dark Ages beginnings have certainly sweetened over time meets bold espresso (tip: if you'd like a little less espresso punch for this recipe, lessen the amount for this particular recipe). Full recipe.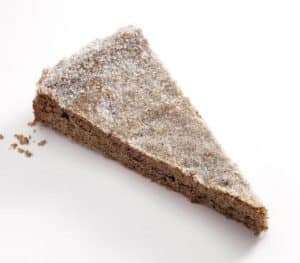 Coffee Cream Eclairs
Something wonderful happens when you bite into a fresh éclair. The right amount of sweet, without too much heaviness from the pastry itself with a finishing of chocolate glaze on top – it's simply delicious. This recipe from the Wholesome Cook indulges us a little further, by simply adding some gourmet grounded coffee to the crème, the result is a delicious blend of coffee, crème, and chocolate. Click here for the recipe.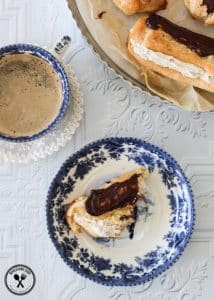 Do you have any favorite recipes that include coffee, espresso or tea? Share them with us – we'll give you a shout-out in our next delectable recipe blog post.